Hey Peaches! I have such a fun card to share with you today! I bought the Follow Your Dreams Set a while back and was so excited to use it. However, there were so many ideas that had already been done, that I wanted to do something unique and more my style, so I have finally gotten around to using it. It's such a pretty set and I have loved playing with it. Here's a look at the stamp and die set: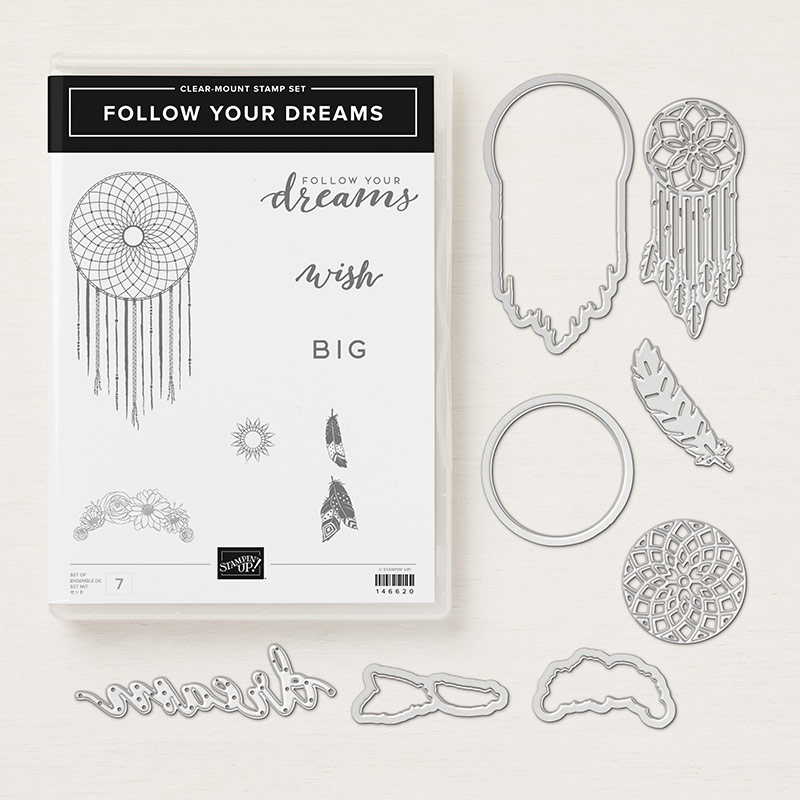 I have really been enjoying using my signature cool colors and combining them with gold elements. I embossed my sentiment in gold and used Metallic Gold Thread behind the feathers. The feathers were watercolored using an Aqua Painter and Bermuda Bay Ink and Lemon Lime Twist Ink. I love how the pop of color really stands out against the white and gold.
One hint I will share about getting this ombre watercolor look with your feathers is to watercolor on your Watercolor Paper fist and then, after it has dried, die cut from it. This gives you a larger piece of paper to color on instead of trying to hold a tiny die cut in place and trying to color it. It also allows you to choose what parts of the colored paper you want die cut.
I hope you have enjoyed today's project. Thanks so much for stopping by and I'll see you next post!
Don't forget! You can find me on
Instagram
and
Facebook
! Happy stamping!
Use my host code (
VHEMAH24

)
for monthly bonus items. Contact me for more info:
Craftylittlepeach@gmail.com
Host A Party
Get your friends together and host a party to earn Stampin' rewards during the month of April! Contact me to book an event!
Starting January 3, hosts with qualifying orders can receive additional Stampin' Rewards. Below are the markets, qualifying amounts, and additional Stampin' Rewards they can receive.
If you've considered joining, it's a truly great time! For just $99, you can select $125 of your choice of product

AND

earn a 20% discount on purchases from the Annual Catalog. This is an amazing deal! If you want to join my team, click here or please email me!