Hey everyone and welcome to the Fancy Friday Blog Hop! If you're new the the Fancy Friday Blog Hops, we are a group of past and current Artisans that get together each month on the last Friday of each month to bring you crafty inspiration with monthly themes and challenges. Now onto this month's focus!
This month the challenge was to "shake things up", so we could make shaker cards, things with bits that shake in it, generally anything that can shake. Well, I thought that the Tropical Oasis Suite was a great place to start shaking things up as I am very ready for some warmer weather. This inspired me to create something pretty unique and fun.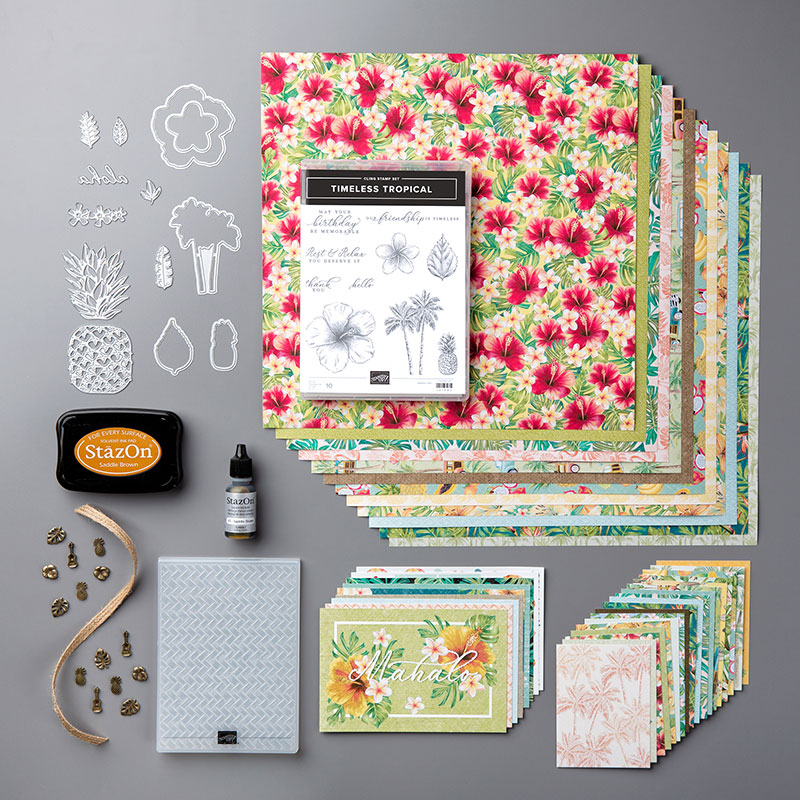 The card I created today is what I like to call a "waterfall shaker". The reason I call it that is because of its design, some of the shaker bits look as if they are perpetually falling through the window of the card. It's a fairly simple process, but takes a bit of time and patience.
I used nylon thread and suspended 3 lines between the layers of my card. On each line, I used Mini Glue Dots to secure From My Heart Faceted Gems and fussy cut plumeria flowers (cut from the Tropical Oasis Designer Series Paper) to the thread on both sides so that no matter how it twisted, you would see gems and flowers. Then I put more shaker bits in my shaker window and finished putting my card together.
Both the sentiment and the die cuts come from the coordinating Timeless Tropical Bundle. Here's a close-up of the "waterfall" effect:
I hope you have enjoyed today's card and don't forge
t to keep hopping for more inspiration. Up next on the hop is the incredibly talented Mercedes Weber. You will be blown away by here designs!
Thanks so much for stopping by and I'll see you next post!
Don't forget! You can find me on
Instagram
and
Facebook
! Happy stamping!
Use my host code (
YA9KHTG7

)
for monthly bonus items. Contact me for more info:
Craftylittlepeach@gmail.com
Host A Party
Get your friends together and host a party to earn Stampin' rewards during the month of November! Contact me to book an event!
November 2019 Hostess Code:
Starting January 3, hosts with qualifying orders can receive additional Stampin' Rewards. Below are the markets, qualifying amounts, and additional Stampin' Rewards they can receive.
If you've considered joining, it's a truly great time! For just $99, you can select $125 of your choice of product

AND

earn a 20% discount on purchases from the Annual Catalog. This is an amazing deal! If you want to join my team, click here or please email me!