Well, hello peaches! Welcome to the Classic Garage Stampin' Up! Artisan Design Team Blog Hop!
Each month our very talented and creative team of designers will be bringing you inspiration, so get comfortable and have a ton of fun hopping along with us.
You may have just arrived from the wonderfully talented
Kaylee Van Es' Blog. I just
LOVE what she has created
!
Today, I will be showcasing the Geared Up Garage Bundle from the Classic Garage Suite of products, so continue to hop along to see all of the amazing designs. What I love about this set is that it has a bit of grunge and texture, but could also easily be used for feminine cards as well! Just add a little pink or soft colors and you've got a great card with a lot of horsepower! Additionally, the dies in this set such as the gears offer other creative options as well. I personally saw a steampunk design come to mind when I first saw this set so the possibilities are endless.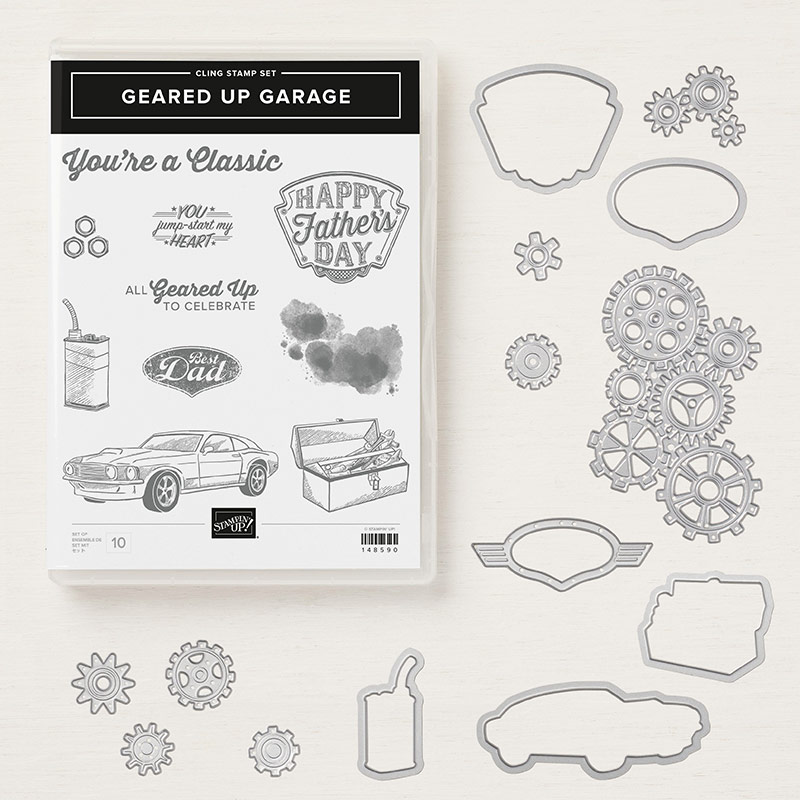 For my first card, and all of my cards showcased today really, I have decided to choose colors that coordinated with the Classic Garage Designer Series Paper (DSP) since I wanted to include it. The fun designs are perfect for any garage or mechanical theme and I love the colors! I began with some Tranquil Tide Cardstock and stamped a few gears in the background. Then I layered on some DSP and a few gears that I had die cut. I cut the wrench and screwdriver directly from the DSP.
My second card features the largest gear die cut from the bundle. I also added a bit of DSP and ripped along the edges for a more grungy textured look.
The ribbon used on this card is the Stripped Metallic Ribbon and it looks so cool! The metallic center of the ribbon reminds me of the reflector plates you see on cars and other machinery. Here's a close up:
My final card has a bit of DSP, gears, and a muscle car prominently featured on the front. I roughed up and dog-eared the corners of the DSP so add more texture and make it more masculine. Then I used my Sponge Dauber to ink on some Tranquil Tide Ink so that the corners wouldn't be so stark white.
I love how the gear dies emboss lines as well as cut for a realistic cog look.
Here's a close-up of my first card:
These products were so fun and inspiring and I know I'll definitely be using them again on future projects. I hope you have enjoyed all of today's cards and designs (full list of supplies below).
Keep hopping along and check out my other fellow teammates' pages. They have some pretty amazing projects to share. I'v
e listed them, along with all products used below or you can just click the link below to hop to the fabulously creative
Maike Beimler
.
Don't forget: Stampin' Up! features a corporate blog post each Thursday of the month where we Artisans share creative tips, tricks, and strategies. You can find these posts in the "notes" section of the
Stampin' Up! Facebook Page
.Thanks so much for stopping by and I'll see you next post!