Hey peaches! I hope that you're having a great week so far. I am on the blog today sharing a fun and easy technique using the brand new Beautiful Blizzard Stamp Bundle and Shimmer Paints.
This set is absolutely gorgeous! I love that the coordinating die set cuts out these delicate little snowflakes, but that's not all! Because the die is one whole piece, you can use the negative piece as well! I just love that.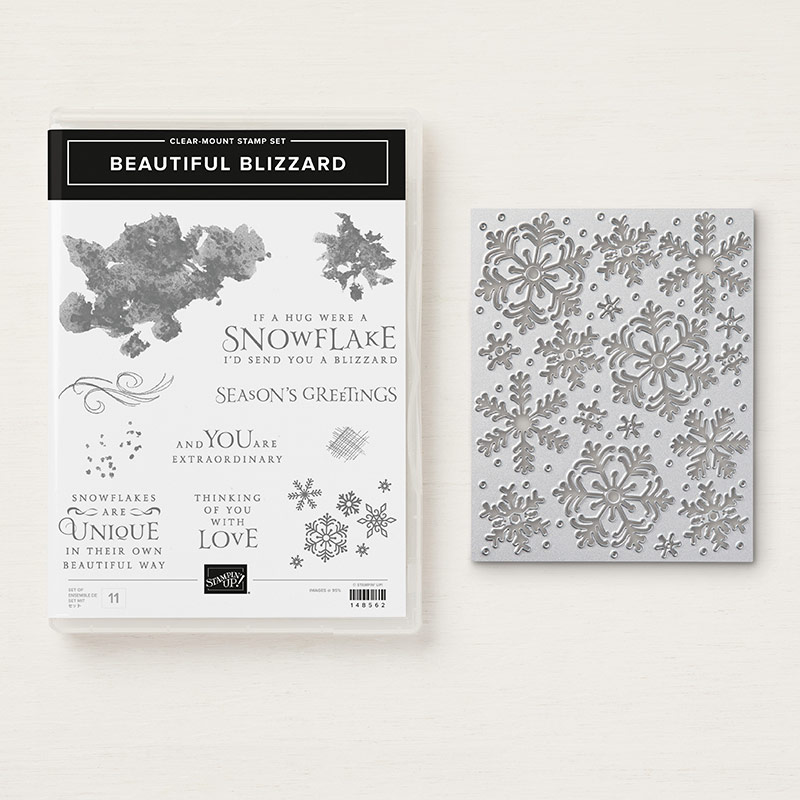 For today's technique, we will be making a shimmer spread background. I thought this set would be perfect to combine with this technique because it's designed to create breathtaking flurries of snow. Here's how you create the background:
1. Take your Frost White Shimmer Paint and add four drops, spaced evenly, along one side of your Watercolor Paper. The reason I chose watercolor paper is because this paper will not absorb the paint instantly, allowing you to spread the paint smoothly.
3. Take an old gift card and spread the paint, in a smooth swipe, across the paper. You can go back and run over it again to spread it more evenly if you like.
The results are really quite unique and stunning! Here's a close-up of the finished card. Thanks so much for stopping by and I'll see you next post!
I wanted to include the little lunchbox note that I made using a little paint that was left over on my gift card after swiping. I just couldn't bear to waste it.
Don't forget! You can find me on
Instagram
and
Facebook
! Happy stamping!
Bonus Days are back!!! For every $50 you spent during the month of August, you will have earned a $5 bonus coupon. Redeem your coupon codes September 1-30. Use my host code (
XMUDHWJ9

)
for even more bonus items. Contact me for more info:
Craftylittlepeach@gmail.com
Host A Party
Get your friends together and host a party to earn Stampin' rewards during the month of August! Contact me to book an event!
September 2018 Hostess Code:
If you've considered joining, it's a truly great time! For just $99, you can select $125 of your choice of product

AND

earn a 20% discount on purchases from the Annual Catalog. This is an amazing deal! If you want to join my team, click here or please email me!
Supplies: