Well, hello peaches! Welcome to the Nothing's Better Than and Blossoms In Bloom Stampin' Up! Artisan Design Team Blog Hop!
Each month our very talented and creative team of designers will be bringing you inspiration, so get comfortable and have a ton of fun hopping along with us.
You may have just arrived from the wonderfully talented
Jan Clothier's Blog. She has made some lovely projects
!
Today, the team will be showcasing products using both the
Nothing's Better Than and the Blossoms In Bloom
Sets, so be sure to check out all of the amazing inspiration!
I had the pleasure of working with the
Nothing's Better Than Bundle
. This set is completely adorbs and has just so many possibilities for all of those delicious indulgences. Here's a look at the set: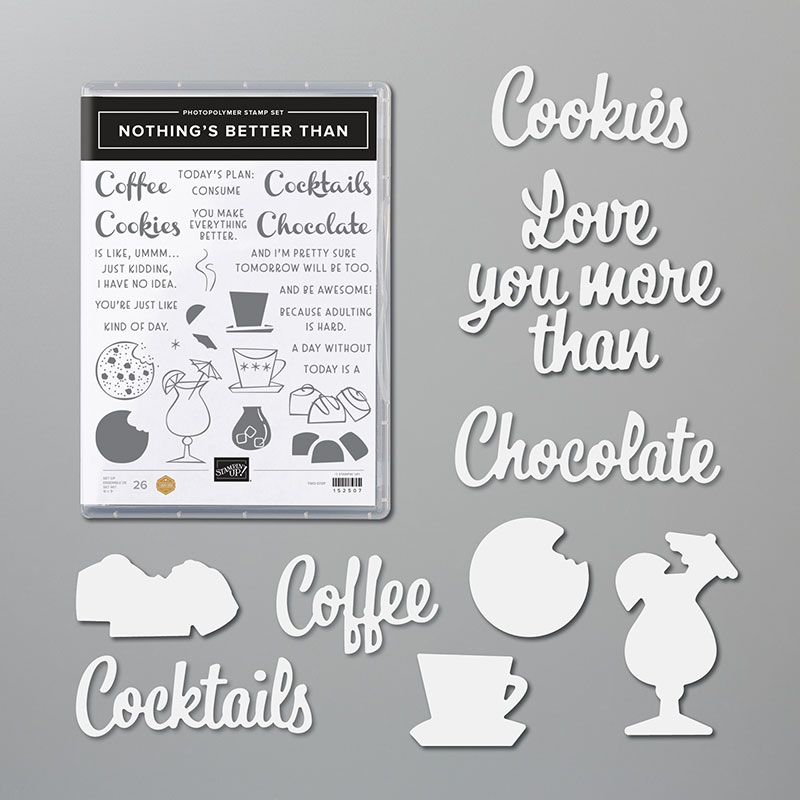 For my first project today, I created a tropical drink themed card. Cocktail time was always a time-honored tradition with my grandparents (though we kiddos got to have guava juice "cocktails" with umbrellas and cherries). They lived in Hawaii for many years, so it was practically expected to enjoy a glass of Guava juice together while they enjoyed their "adult beverages". This card was inspired by those fond memories. I used Magenta Madness Ink and Daffodil Delight Ink. To get the ombre effect you would ink only the top portion of your stamp in one color then the other half in the other color. Then you would
use a
Sponge Dauber
to blend the two colors in the middle where they met.
Here's a close up of the details:
My next card uses the "coffee" die cut word and the same technique as the previous card on the coffee cup. I used some of the magenta patterned paper from the
2020–2022 In Color Designer Series Paper
in small strips to ground my main images. I crumpled the DSP to create a distressed effect.
Here's a close-up of the effect:
My final card showcases the cookies images and die cuts from the set on Daffodil Delight Cardstock. I used a few stars from the Stitched Stars Dies to make the cookies pop. I die cut the stars from the same colored cardstock to give it more subtle texture.
This bundle was so much fun to create with and a great way to make fun, playful projects for when you just need that something that helps you through the day like coffee, chocolate, cookies, or cocktails. I hope you have enjoyed all of today's cards and designs.
Keep hopping along and check out my other fellow teammates' pages. They have some pretty amazing projects to share. I'v
e listed them, along with all products used below or you can just click the link below to hop to the fabulously creative
Leah Fedynak
.
Don't forget: Stampin' Up! features a corporate blog post each Thursday of the month where we Artisans share creative tips, tricks, and strategies. You can find these posts in the "notes" section of the
Stampin' Up! Facebook Page
.Thanks so much for stopping by and I'll see you next post!
2020 Stampin' Up! Artisan Design Team