Well, hello peaches! Welcome to the All About the Host Stampin' Up! Artisan Design Team Blog Hop!
Each month our very talented and creative team of designers will be bringing you inspiration, so get comfortable and have a ton of fun hopping along with us. Each team member is showcasing a different host set so make sure you hop all the way through.
You may have just arrived from the wonderfully talented
Jan Clothier's Blog. She has made some lovely projects
!
Today, we will be showcasing products using host sets from both the Annual Catalog and the Mini Catalog. I had the pleasure of working with the
Make A Splash Stamp Set
. This set is completely adorbs and if you know me, you know this set is totally my jam! Here's a look at the set: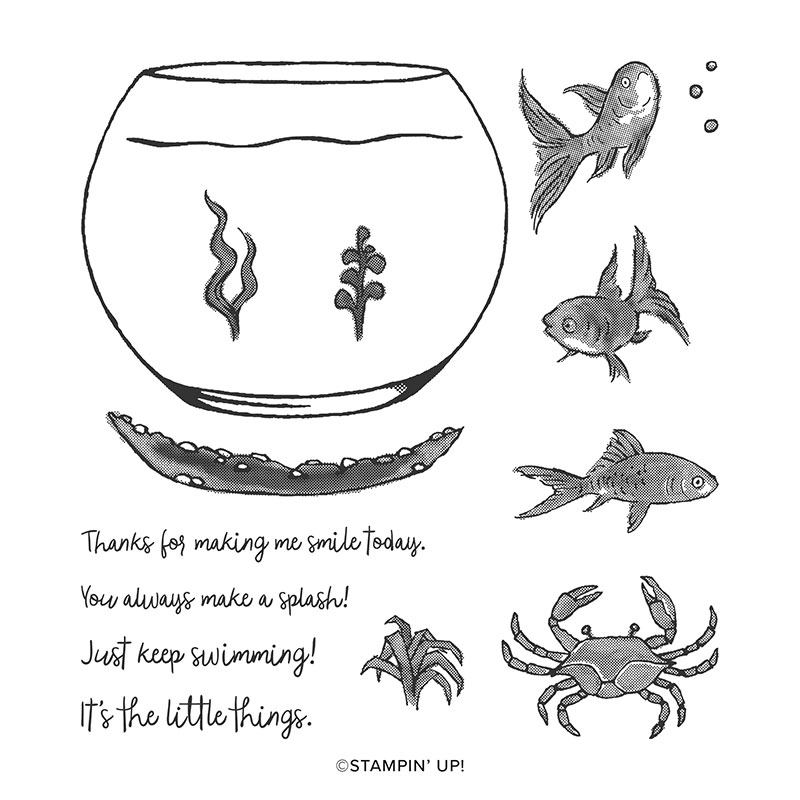 For my first project today, I wanted to create a realistic fishbowl look. I took quite a few sequins from the Woven Threads Sequin Sequin Assortment and adhered them to the bottom of my fishbowl. The Take Your Pick Tool comes in real handy for this step. Adding all of the plants and other details made it easy to hide the adhesive behind the vellum.
Here's a close up of the effect:
Here's a close-up of the effect:
Here's a closer look at the details of my second card:
My final card showcases that little crab from the set. I used Rococo Rose Ink to stamp the crab repeatedly in the background and then pieced together a few of the sentiments to make my own.
These host sets are so much fun and a great way to create stunning projects. I hope you have enjoyed all of today's cards and designs.
Keep hopping along and check out my other fellow teammates' pages. They have some pretty amazing projects to share. I'v
e listed them, along with all products used below or you can just click the link below to hop to the fabulously creative
Leah Fedynak
.
Don't forget: Stampin' Up! features a corporate blog post each Thursday of the month where we Artisans share creative tips, tricks, and strategies. You can find these posts in the "notes" section of the
Stampin' Up! Facebook Page
.Thanks so much for stopping by and I'll see you next post!
2020 Stampin' Up! Artisan Design Team
Thanks so much for stopping by and I'll see you next post!
Use my host code
QU6C9HUG

)
for monthly bonus items. Contact me for more info:
Craftylittlepeach@gmail.com
Host A Party
Get your friends together and host a party to earn Stampin' rewards during the month of May! Contact me to book an event!
Starting January 3, hosts with qualifying orders can receive additional Stampin' Rewards. Below are the markets, qualifying amounts, and additional Stampin' Rewards they can receive.
If you've considered joining, it's a truly great time! For just $99, you can select $125 of your choice of product

AND

earn a 20% discount on purchases from the Annual Catalog. This is an amazing deal! If you want to join my team, click here or please email me!