Hey everyone and welcome to the Fancy Friday Blog Hop! If you're new the the Fancy Friday Blog Hops, we are a group of past and current Artisans that get together each month on the last Friday of each month to bring you crafty inspiration with monthly themes and challenges. I'm so honored and excited to be a part of this talented group! Now onto this month's focus!
This month we get to choose our favorite new item from the Annual Catalog, and while I have many favorites, the We'll Walrus Be Friends Set just makes me smile.This set has the cutest walrus images with a few fish sprinkled in, and the sentiments are just too adorable.
It's definitely a must-have.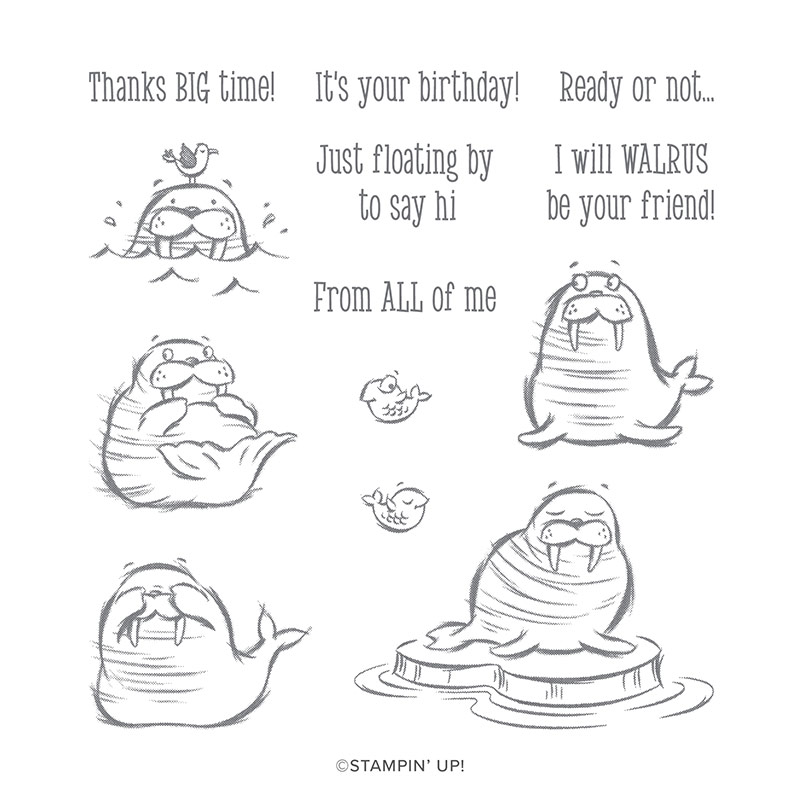 I made two cards today. My first card uses that gorgeous new Pretty Peacock Cardstock. I typically don't gravitate towards regal colors but this one is just so rich and beautiful. I wanted to ground my focal pieces so I used my Stitched Label Dies and embossed it into the background. I used my Smokey Slate blends to color my walrus. I just love his little eye brows.
I couldn't help but make a second card because I was just having so much fun with this set and just couldn't stop stamping with it.
I used my
Aqua Painter
to create a shimmery watercolor striped background to look like the ocean. I just love how beautifully Seaside Spray, Pacific Point, and Bermuda Bay Inks look together!
Hopefully you can see in the close-up image below how I've created some shimmer splatter. I achieve this effect by taking some Frost White Shimmer Paint and putting it in my Aqua Painter with some water and then tapping the brush against my finger to get the splatter on my card. It's subtle but so gorgeous in person.
I hope You have enjoyed my card for today and don't forget to keep hopping for more inspiration. Up next on the hop is the incredibly talented Rochelle Blok. You will be blown away by here designs!
Thanks so much for stopping by and I'll see you next post!
Don't forget! You can find me on
Instagram
and
Facebook
! Happy stamping!
Use my host code (
ZSBK6EH2

)
for monthly bonus items. Contact me for more info:
Craftylittlepeach@gmail.com
Host A Party
Get your friends together and host a party to earn Stampin' rewards during the month of June! Contact me to book an event!
Starting January 3, hosts with qualifying orders can receive additional Stampin' Rewards. Below are the markets, qualifying amounts, and additional Stampin' Rewards they can receive.
If you've considered joining, it's a truly great time! For just $99, you can select $125 of your choice of product

AND

earn a 20% discount on purchases from the Annual Catalog. This is an amazing deal! If you want to join my team, click here or please email me!